The LayoutViewer
is a lightweight viewer for mobil devices based on the same engine as the LayoutEditor. With the support of high resolution/retina displays the view experince is superior to any desktop screen. The LayoutViewer supportes as the LayoutEditor a wide range of file formats like Calma GDSII, OASIS (Open Artwork System Interchange Standard),DXF, CIF (Caltech Intermediate Form), Gerber (RS-274X) and SOURCE. A FTP client is included to load designs directly from a server.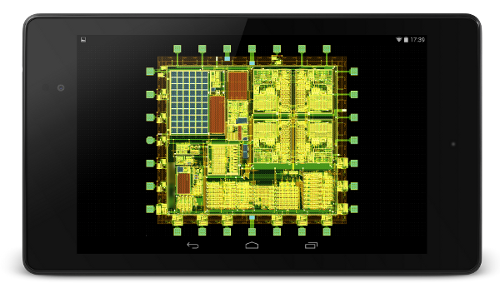 FAQ - Frequently Asked Questions
How to download files from a password protected site?
Enter as server name ftp://username:password@server. If user name or password contains a '@' replace it with %40.
How to transfer files to the LayoutViewer without a server to my iPhone or iPad?
Do these steps:
Open itunes and connect your device,
Select your device,

Select the Apps tab,

Select LayoutViewer,

Transfer files